Gold medal at Ecovadis: Pfleiderer is among the top 4% worldwide
A sense of responsibility and sustainability are an integral part of Pfleiderer's philosophy. This is now confirmed by a top rating from EcoVadis - one of the world's leading independent providers of sustainability rankings.
Pfleiderer has done a lot in the past two years to make its commitment to sustainability more visible to customers, employees and society at large. This includes the presentation of the first sustainability report, joining the Climate Protection Wood Industry Initiative, awarding the Blue Angel to further parts of the product range, and certifying the first product lines in accordance with the Cradle to Cradle Certified™ programme. In this context, we have also created a carbon footprint for companies and products - and joined the UN Global Compact.
EcoVadis evaluates a total of 21 criteria ranging from environment to labour and human rights as well as ethics to sustainable procurement. "After being awarded silver in the previous year, we are very pleased to have achieved the gold medal with our second participation in this evaluation," explains Dr Frank Herrmann, COO of the Pfleiderer Group. "Much more important, however, are the insights we gain regarding open points and measures that still need to be taken."
Top 4 % of all rated companies
The assessment by EcoVadis is a clear confirmation that Pfleiderer is on the right track with its corporate orientation and its self-imposed future goals for sustainability. In comparison with more than 90,000 other companies from over 160 countries and more than 200 industrial sectors, Pfleiderer has already achieved a position among the top 4 %. In the coming years, this development will be significantly advanced in the areas of raw materials, climate and people - with clearly formulated and communicated goals. For example, by 2025 the proportion of recycled wood in production will be increased to 50% and CO2 emissions will be reduced by 21% (compared to 2020). Pfleiderer defines these and other targets in its ESG Framework.

"We have been able to build the future development of our company on excellent foundations over the past few months," says Dr Herrmann. "We see the gold rating we have now received from EcoVadis as confirmation of our achievements and an incentive for future performance."
Environmental Social Governance (ESG) is a top priority at Pfleiderer
At Pfleiderer, we address the needs and interests of our stakeholders by implementing sustainable processes within the company and society.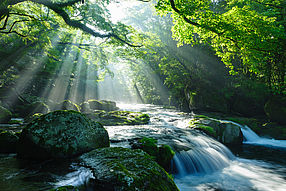 Film off: consistent circular economy in the use of natural resources
The world must become more sustainable, resources must be conserved and climate change must be stopped. The right materials make an important contribution to this.

Ready for the Future: OrganicBoard P2
For Pfleiderer, sustainability is more than a theoretical concept. We work hard to set new standards. With OrganicBoard P2, we are now presenting a double-sided melamine-coated decorative board with a uniquely future-oriented raw material concept.