Flexible choice of materials for individual solutions
Enjoy the wide choice offered by Pfleiderer's product range in full – with our DST system, which makes it possible to combine decors, textures and core materials with almost unlimited flexibility! It allows you to create the perfect basis for matching decor solutions for all trades – regardless of whether the elements will be installed horizontally, vertically, play a functional or a load-bearing role or are simply decorative.
Decors
Pfleiderer wood-based materials are available in an almost infinite variety of designs, which form the basis of our unique decors. Discover our full range – our colour worlds will offer inspiration, ideas and, above all: choice! Whether you are using a range of finely coordinated solid colours, imaginative patterns or highly authentic reproductions of wood, stone or other materials, we have the decors to make your designs as attractive as possible!
Surface Textures
Surface textures play an important role in making our decorative wood-based panels truly unique. They open up exciting possibilities and give each design its own special look and feel. At Pfleiderer, you can choose from our extensive range of surface texture groups. Perfectly tailored to every décor with fascinating depth effects, extremely robust properties or even anti-bacterial finishes – let your sense of touch guide you!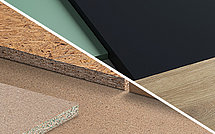 Core boards and products
Good ideas need solid foundations. Ideally from the Pfleiderer range of core panels. The range includes raw panels for timber construction, cores for lamination and decorative panels – with direct lamination, high quality coating or robust HPL surfaces. Whether you need sustainably certified chipboard, fibreboard, compact or composite materials to realise your ideas. Here at Pfleiderer, you can always find a well-designed, cost-effective and functional solution for all your needs including challenging fire prevention requirements, structural load capacities and lightweight constructions!
Discover our decorative panels
Would you like to learn more?
Please get in direct touch with us! We are looking forward to hearing from you.