High-performance to withstand the tough everyday challenges in the logistics area
So that valuable items are reliably protected

Solid, durable high bay racking with a high load-bearing capacity is an important factor for successful and productive warehouse management. Pfleiderer offers exceptionally robust woodbased materials that are easy to work with and allow their efficient construction in the required quality. Shelves, platforms, staircases and raised floors have to withstand a lot in everyday logistics. Pfleiderer ensures, with the right wood-based panels, that storage technology can be implemented quickly, economically and in accordance with all valid stipulations and regulations.
Uncompromisingly good:
At Pfleiderer quality has a system
You can rely on security and transparency.
Producing wood-based materials sustainably and in the highest quality is a challenge. As a leading company in the wood industry, Pfleiderer faces up to this challenge at all levels – and with traditional entrepreneurial diligence. With modern production sites, an integrated management system for quality, environment, energy and safety, and a corporate culture that continuously develops these values. Because for us, the compatibility of quality and sustainability is a matter of course!
In concrete terms, this means that we certify our processes throughout the entire value chain – often far beyond what is legally required. We attach great importance to being as transparent as possible for our customers and partners. Our environmental management systems at our locations are certified according to DIN ISO EN 14001 and ISO 50001. Also we belong to the Quality Association for Wood-based Panels and have certifications according to FSC® (License Code: FSC® C011773) and PEFC (License Code: PEFC/04-32-0828). And if you want to know more, just contact us. We will be happy to give you detailed information!
Designed for a future worth living:
Sustainability at Pfleiderer
Responsibility for tomorrow starts today.
Those who rely on wood as a raw material rightly expect an environmentally conscious "green" material. We at Pfleiderer want to do full justice to this and have therefore been offering an extensive range of low-emission and environmentally friendly products for many years. Sustainability – in addition to ecological, social and economic aspects – as well as careful use of natural resources are permanent pillars of our corporate philosophy. Consistent recycling management and wood recycling ensure that no trees are felled for our products. Through regular independent evaluation of our procurement and production processes, we are able to ensure that we are able to offer our customers the best possible service, manufacturing and logistics processes as well as a corporate culture of accountability. We ensure that you can use our products with a clear conscience and recommend them to your customers.
A healthy full range of products.
Pfleiderer focuses on low-emission materials, e.g. F**** glued panels for interior design or LivingBoard with formaldehyde- free gluing. Many of our board materials have been awarded the Blue Angel for a healthy indoor climate for many years. At the beginning of 2020, we succeeded in obtaining this award – in addition to raw boards and directly coated products – also for large parts of the HPL range. This means that you can also fall back on a consistently sustainable full product range for demanding projects – and fulfil customer wishes without compromising on ecology and sustainability.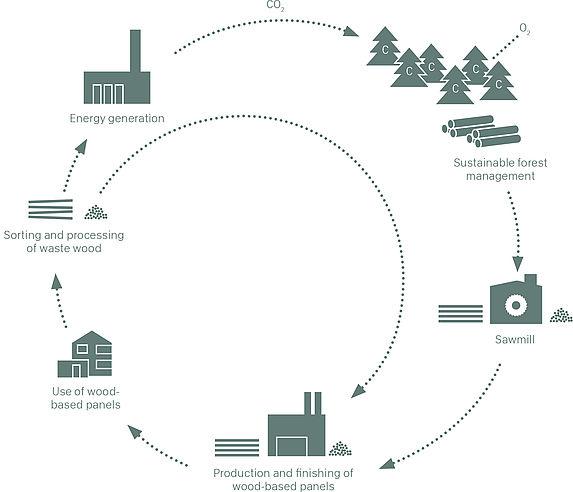 Through multi-stage wood utilisation (so-called cascade utilisation), wood recycling, and the use of forestry wood and industrial waste wood for high quality materials with a long service life, Pfleiderer conserves valuable resources and actively contributes to reducing carbon emissions, air, water and soil pollution and energy consumption. We control the wood mix individually, depending on the product, to achieve a perfect balance between quality requirements and resource conservation.
Pfleiderer PremiumBoard:
It says what it says it does - reliably!
Pfleiderer PremiumBoard combines extreme bending strength, a high load-bearing capacity and robustness with excellent processing properties. The amino resin bonded raw chipboard panels offer above-average stability and can be used either way as they are isotropic; they are also designed for minimum off-cut waste. The calm and sanded surface is perfect for any kind of coating. On request, PremiumBoard is also available in a PEFC or FSC certified version; low resin wood-based materials also guarantee low VOC emissions. It is also available in a fire resistant version called PremiumBoard Pyroex B1 P4 for use in areas where safety is paramount.
Areas of application
Platforms, shelving, raised access floors and stairs with high loading requirements
Properties
Particularly high bending strength, resistance and load carrying capacity
Above-average durability
Isotropic strengths in longitudinal and transverse direction
Technical approval in accordance with CE EN 13986 – P4 / P6
Advantages
Isotropic strength properties in all panel directions ensure optimised cut-to-size
Low VOC emissions due to the use of low-resin wood
The smooth and sanded surface is optimally suitable for the coating
Materials used
Fresh forest wood and sawmill wood, recycled material
Amino resin
Pfleiderer DecoBoard:
Cleverly designed, high-performance melamine coated core panels
High-quality surface, hard core. DecoBoard offers a special added value in the area of shelf and platform construction: its static properties equal that of PremiumBoard, but it is also equipped with a melamine resin based surface coating. On request, it can also be finished with the surface texture Skidproof, and therefore achieve the slip resistance rating R10. The reverse has a white top layer, which considerably improves the lighting conditions in warehouses.
Areas of application
Properties
Technical overlay with special impregnation
In combination with the skidproof texture and particular product lay-up, fulfils the slip resistance rating R10 and abrasion resistance class AC4
Particularly high bending strength, resistance and load carrying capacity
The surface is suitable for contact with food
Advantages
Isotropic strength properties in all panel directions ensure optimised cut-to-size
Rear white coated, to improve light conditions
Above average stability
Good workability
Materials used
Fresh forest wood and sawmill wood, recycled material
Amino resin
Faced with melamine resin impregnated paper
There is not the right product for your requirements?
Would like to learn more?
Feel free to contact us directly! We look forward to hearing from you.
Illustrative and results-driven:
Digital services from Pfleiderer
We do not only focus on the quality of our products, but we also believe in the word SERVICE. In order to support you in the best possible way, we offer you a range of tools to make your work easier. After all, handling wood-based materials also benefits from the new possibilities of the digitalised world. Pfleiderer offers its partners a wide range of options that make selecting, designing, planning, visualizing and implementing projects much easier. Get to know our digital services - you will never want to do without them again.