Pfleiderer packaging panels:
So that everything gets from A to B safely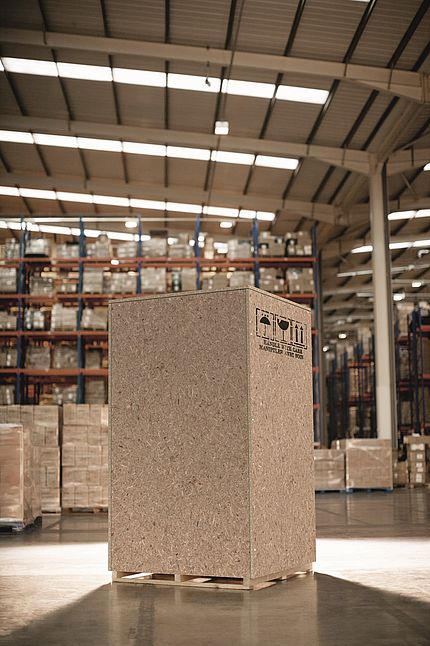 Valuable cargo must be well-protected against impact, moisture and temperature fluctuations. With our packing construction panels, we offer flexibly usable, robust, moisture-resistant and internationally approved solutions.
We guarantee consistently high quality which is ensured by continuous external and internal monitoring, as well as our active quality management system – to achieve ISO 9001 certification.
PremiumBoard MFP P5 and LivingBoard face contiprotect P5 can be delivered at short notice, as they are available from stock in various formats and thicknesses.
PremiumBoard MFP P5 and LivingBoard face contiprotect P5 meet the requirements for overseas export. They are free of insects and can be labelled in accordance with the IPPC standard ISPM No. 15
Uncompromisingly good:
At Pfleiderer quality has a system
You can rely on security and transparency.
Producing wood-based materials sustainably and in the highest quality is a challenge. As a leading company in the wood industry, Pfleiderer faces up to this challenge at all levels – and with traditional entrepreneurial diligence. With modern production sites, an integrated management system for quality, environment, energy and safety, and a corporate culture that continuously develops these values. Because for us, the compatibility of quality and sustainability is a matter of course!
In concrete terms, this means that we certify our processes throughout the entire value chain – often far beyond what is legally required. We attach great importance to being as transparent as possible for our customers and partners. Our environmental management systems at our locations are certified according to DIN ISO EN 14001 and ISO 50001. Also we belong to the Quality Association for Wood-based Panels and have certifications according to FSC® (License Code: FSC® C011773) and PEFC (License Code: PEFC/04-32-0828). And if you want to know more, just contact us. We will be happy to give you detailed information!
Designed for a future worth living:
Sustainability at Pfleiderer
Responsibility for tomorrow starts today.
Those who rely on wood as a raw material rightly expect an environmentally conscious "green" material. We at Pfleiderer want to do full justice to this and have therefore been offering an extensive range of low-emission and environmentally friendly products for many years. Sustainability – in addition to ecological, social and economic aspects – as well as careful use of natural resources are permanent pillars of our corporate philosophy. Consistent recycling management and wood recycling ensure that no trees are felled for our products. Through regular independent evaluation of our procurement and production processes, we are able to ensure that we are able to offer our customers the best possible service, manufacturing and logistics processes as well as a corporate culture of accountability. We ensure that you can use our products with a clear conscience and recommend them to your customers.
A healthy full range of products.
Pfleiderer focuses on low-emission materials, e.g. F**** glued panels for interior design or LivingBoard with formaldehyde- free gluing. Many of our board materials have been awarded the Blue Angel for a healthy indoor climate for many years. At the beginning of 2020, we succeeded in obtaining this award – in addition to raw boards and directly coated products – also for large parts of the HPL range. This means that you can also fall back on a consistently sustainable full product range for demanding projects – and fulfil customer wishes without compromising on ecology and sustainability.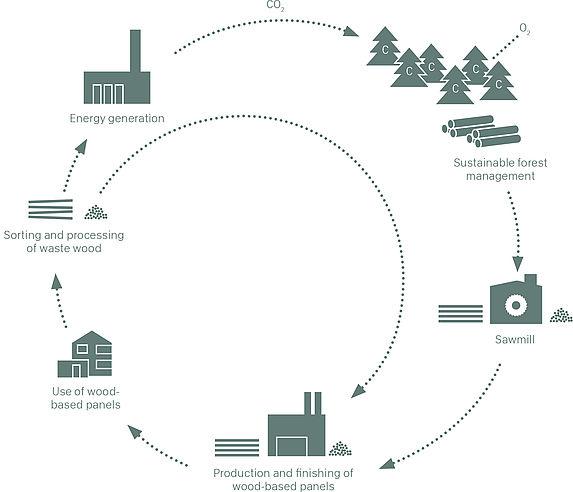 Through multi-stage wood utilisation (so-called cascade utilisation), wood recycling, and the use of forestry wood and industrial waste wood for high quality materials with a long service life, Pfleiderer conserves valuable resources and actively contributes to reducing carbon emissions, air, water and soil pollution and energy consumption. We control the wood mix individually, depending on the product, to achieve a perfect balance between quality requirements and resource conservation.
Pfleiderer Premiumboard MFP P5:
Multifunctional packing construction panels
PremiumBoard MFP P5 offers the ideal properties for packing construction: the amino resin bonded raw chipboard is moisture resistant, can be used in any direction and is also approved for crate construction according to the HPE guidelines. The material is also food safe; the packing crates are therefore also suitable for storing dry goods. On request, PremiumBoard MFP P5 is also available in a PEFC or FSC certified version and can be labelled with the IPPC standard ISMP 15 for international trade.
Areas of application
Ideal for packaging purposes
Suitable for crate making in accordance with the HPE guidelines
Properties
Moisture resistant
Attractive natural wood look
Isotropic strengths in longitudinal and transverse direction
Sanded surface
Advantages
Isotropic strength properties in all panel directions ensure optimised cut-to-size
Nails, screws and staples sit perfectly, even in the edge area
Food safe
Easy to write on due to sanded surface
Materials used
Fresh forest wood and sawmill wood, recycled material
Moisture-resistant amino resin
Pfleiderer LivingBoard face contiprotect P5:
The low emission natural solution
Bonded formaldehyde-free, moisture resistant yet still extremely tough right up to the edges – that's LivingBoard Face P5 Contiprotect for you. The moisture resistant PU bonding and the rough, heat-treated Contiprotect surface guarantee very little thickness and edge swell and even offer protection during short periods of heavy rain.
Areas of application
Ideally suitable for packaging purposes with high requirements
Suitable for crate making in accordance with the HPE guidelines
Properties
Coarse top layer, natural look
Formaldehyde-free and moisture resistant PU bonding
Isotropic strengths in longitudinal and transverse direction
Low thickness and edge swelling
Advantages
Isotropic strength properties in all panel directions ensure optimised cut-to-size
Protection against short-term exposure to driving rain due to heat-finished contiprotect surface
Good labelling capability
No discolouration due to leaching
High screw pull-out resistance, even in the area of the edge
Protects the packed products reliably against impact, moisture and external temperature fluctuations
Materials used
Fresh wood from sawmill byproducts such as slabs, wood chips, chippings and thinnings
Formaldehyde-free PU binder
Pfleiderer Styleboard HDF thin:
Ideal for layering and partitions
The rough, extremely dense fibreboard keeps everything in order inside the packing crate. It has a fine, hard surface and offers excellent stability. It is therefore outstandingly easy to work with, for example when it comes creating shelves for layering or partitions to divide components or materials.
Areas of application
Ideally suited for dividers and partitions for packaging
Sanded, high density fibreboard
Properties
Sanded surface
Isotropic strengths in longitudinal and transverse direction
Advantages
Isotropic strength properties in all panel directions ensure optimised cut-to-size
Fine, hard surface can be processed with ease
High stability
Materials used
Fresh forest wood and sawmill wood
Urea resin
There is ALWAYS the right product for your requirements!
Would like to learn more?
Feel free to contact us directly! We look forward to hearing from you.
Illustrative and results-driven:
Digital services from Pfleiderer
We do not only focus on the quality of our products, but we also believe in the word SERVICE. In order to support you in the best possible way, we offer you a range of tools to make your work easier. After all, handling wood-based materials also benefits from the new possibilities of the digitalised world. Pfleiderer offers its partners a wide range of options that make selecting, designing, planning, visualizing and implementing projects much easier. Get to know our digital services - you will never want to do without them again.