Pfleiderer: Among Europe's ESG Top-Rated Industrial Companies
In March 2022, Pfleiderer was rated very highly by Sustainalytics as one of the champions in the European building materials industry when it comes to sustainability. To be specific, the positive verdict was "low risk" and was the result of an industry risk rated as "medium" and its management rated as "strong". The annual list of top-rated ESG companies based on this industry-leading ESG risk rating now lists Pfleiderer as one of the top-rated industrial companies.
One of seven outstanding European companies in the construction industry
Sustainalytics' ESG risk ratings cover more than 15,000 companies in 42 industries. Based on a best-in-class methodology, the top-rated companies worldwide with the best ESG performance were identified from all analysed participants, as well as the best-performing ESG companies per industry and region. In the construction products sector, Pfleiderer is thus one of seven European companies to receive an excellent rating. Systainalytics congratulated as this result demonstrates the company's commitment to ESG practices and Pfleiderer is now ranked by Sustainalytics as one of the best performing ESG industrial companies. "We will not tire of emphasising how proud this award also makes us and at the same time is both an incentive and an obligation to consistently continue on the path we have chosen," explained Dr. Frank Herrmann, CEO of the Pfleiderer Group. "The goals regarding climate neutrality, consistent expansion of cascade and circular economy, increasing independence from fossil raw materials as well as compliance with high ethical and social standards and commitment to responsible corporate governance accompany our business activities."
Award as a result of clear goals
This milestone was achieved through a targeted, comprehensive and coordinated strategy to reduce CO2 emissions, which Pfleiderer has been implementing for many years - and which will be further expanded, as Dr. Herrmann underlines: "Pfleiderer's ambitious goals are laid down in our ESG framework. In the area of materials, we are committed to increasing the proportion of recycled wood used from 40 % in 2020 to 50 % in 2025, to procuring the thinned and residual wood used exclusively from suppliers who verifiably work according to FSC or PEFC guidelines and, also by 2025, to manufacturing at least 10 percent of our production volume of particleboard using bio-resins."
Dr. Herrmann also states: "In the area of "climate", we are focusing on ambitious short- and medium-term reduction targets for greenhouse gases in order to drive forward the conversion to climate neutrality. Scope 1 and Scope 2 greenhouse gas emissions from our own energy production and procurement are to be reduced by 21 percent by 2025, which clearly commits us to the 1.5 degree target of the Paris Climate Agreement. Furthermore, in Scope 3, we are striving to reduce the greenhouse gas balance of manufactured products in connection with purchased chemical products by 21 percent by 2025. And last but not least, in the area of "People", we set high target requirements for occupational health and safety, diversity and employee training. Our customers and stakeholders can be sure that they have a future-oriented partner in us. This applies to verifiable sustainability, but also to our other qualities: customer focus, high quality and innovative products and services that set standards in the industry - and which also contribute to sustainability.
Do you have any questions? Feel free to contact us!
If you have any questions about the ESG rating or other sustainability topics at Pfleiderer, please feel free to contact our team. We will be happy to help you!
Environmental Social Governance (ESG) is a top priority at Pfleiderer
At Pfleiderer, we address the needs and interests of our stakeholders by implementing sustainable processes within the company and society.
Film off: consistent circular economy in the use of natural resources
The world must become more sustainable, resources must be conserved and climate change must be stopped. The right materials make an important contribution to this.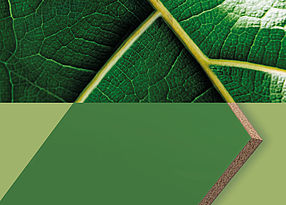 Ready for the Future: OrganicBoard P2
For Pfleiderer, sustainability is more than a theoretical concept. We work hard to set new standards. With OrganicBoard P2, we are now presenting a double-sided melamine-coated decorative board with a uniquely future-oriented raw material concept.