Decor group
Pattern
Next NCS code
Colour character
Reflection value
Product system
Textures
Real Metal

Stylish
Expressive
Classical
Linear
Stainless Steel

S3010 - G
0.76
DST

Standard texture:

Additional textures:
Swatches & collection sets
EXPRESS DST Kollektion 2021 - 2024 | Holzdekore, Materialdekore, Stein- und Mineraldekore
Swatches
130 mm x 90 mm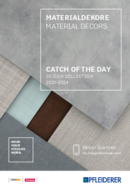 Materialdekore – Catch of the day
Swatches
130 mm x 90 mm
You like to learn more?
Please get in touch with us! We look forward to hearing from you.
Product enquiries and sales department