Decor group
Wood species
Pattern
Colour character
Reflection value
Product system
Textures
Wood reproductions
Oak

Expressive
Authentic
Vintage
Lively
Flowered planked
Rough sawn
Plane marks

0.32
DST

Standard texture:

Additional textures:
Swatches & collection sets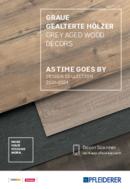 Bois vieillis gris – As time goes by
Swatches
130 mm x 90 mm
Plans de travail France – Programme Stocké 2021 – 2024
Swatches
130 mm x 90 mm
You like to learn more?
Please get in touch with us! We look forward to hearing from you.
Product enquiries and sales department