In the spotlight:
Convincing goods and service presentations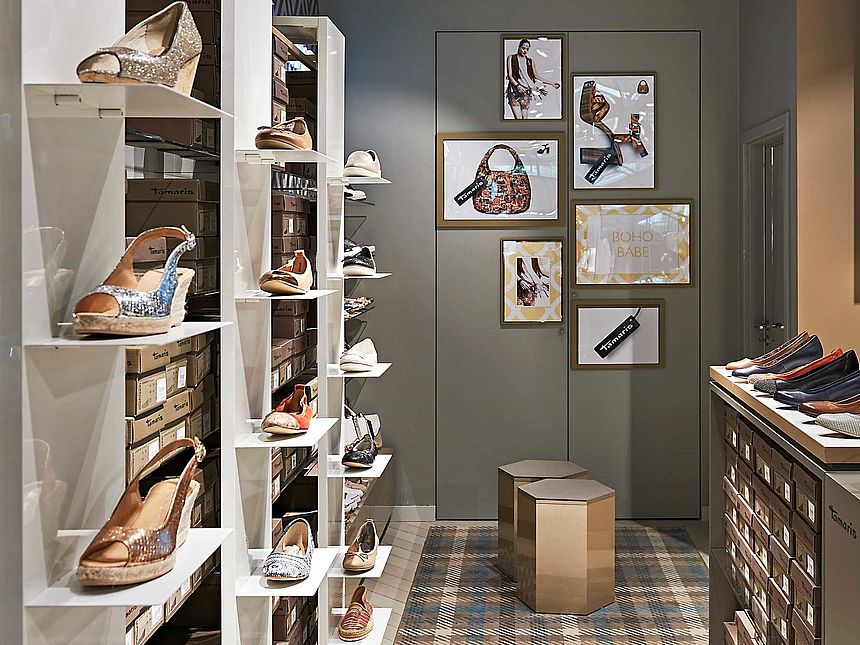 In the retail trade and at exhibitions, the most important thing is to present your products and brands in an illustrative way. This also calls for a corresponding presentation architecture. With products that are easy to work with and are available in an extremely wide range of finishes and with sophisticated surface textures, Pfleiderer's wood-based materials help you to add vital accents where it matters:

Trade fair/exhibition stand construction
Shop outfitting
Exhibitions
Shops
Shop-in-shop systems
Sales booths
Merchandise presentation
Reception desks and counters
Wall panelling and ceiling systems
Showroom and warehouse systems
Furniture
etc.

Precise:
Colour and surface designs that are one hundred percent what you were looking for
Pfleiderer's product spectrum offers a wide range of exhibition stand construction and shop outfitting solutions – from the core material to the look and texture, with a choice of more than 300 finishes, from plain to wood and stone and even bespoke. The product portfolio also includes core panels with a decorative coating on both sides, such as DecoBoard or Duropal flat bonded panels. Pfleiderer also sets benchmarks when it comes to the surfaces: whether high gloss, extremely matt or selected textures that match the finishes – Pfleiderer offers the right solutions!
Establish your own identity:
Pfleiderer individual for limitless creativity
Especially when brands present themselves, the most important aspects are immediate recognition and uniqueness. Pfleiderer Individual makes it possible to achieve this in an exceptional way: customised images, for example logos, can be realised as finishes with a sophisticated digital print process. On ten different core materials, from Duropal HPL to direct-coated decorative chipboard panels. Minimum order quantity: one!
MICROPLUS®
THE SURFACE WITH ANTIMICROBIAL EFFECT FOR INTERIOR FITOUT AND FINISHES
Anyone who requires additional safety in interior fitouts and finishes, will find the solution in the antimicrobial effect of the microPLUS® surface. The fact is, bacteria, or rather microbes, are our constant companions. Whether at home, in the office, in public facilities, in the care sector or in hospitals: the initiators of infections pose an acute problem almost everywhere.
The product versions in which microPLUS® are available are as diverse as the possible uses: Depending on requirements, DecoBoard melamine-faced decorative chipboards, high-pressure laminates, compact boards, worktops, composite (flat-bonded) and front elements can be supplied with the antimicrobial surface. There is also a wide range of design choices - microPLUS® is available for DecoBoard in the DST Xpress collection and for HPL in the entire design collection. microPLUS® also excels in terms of the product and structural combination of HPL and DecoBoard, allowing the products to be combined in a variety of ways in many application areas of different projects.
There is not the right product for your requirements?