How the integrated microPLUS® protection works
Chemical cleaning agents with aggressive substances have hardly any effect, even if used repeatedly and they can also have a negative impact on humans and the environment. A problem for which Pfleiderer developed a solution in 2005 with great success, as the certificates of the independent test institutes Isega, Fraunhofer Institut and GfPS document. We opted for a silver additive made by Sanitized to produce our product. Among other things, it is also used in clothing, hygiene and care products. The combination developed from this acts effectively against germs, but at the same time is safe for humans. So one thing you can be sure of - with the microPLUS® surface, whose antimicrobial effect is achieved by safe constituents, hygiene standards are redefined.
The effect is significant: If 10,000 bacteria are placed on a surface, after seven hours only between 0 and 10 remain. This corresponds to a bacteria reduction of over 99 percent. Through the contact of the bacterium with the microPLUS® surface, important functions in the micro-organisms are disrupted, the bacterium can no longer reproduce and ultimately vanishes.
MRSA are germs that are resistant to certain antibiotics. They are therefore the subject of particular focus, especially in hospital hygiene. microPLUS® has such a successful and durable effect against MRSA!
Test Methodology JIS Z 2801 / ISO 22196
The ISO 22196 has evolved from the Japanese test standard JIS Z 2801. The JIS (Japanese Industrial Standard) Z 2801 test was developed there in 2000 for the testing of plastic surfaces. In 2007, this method was then also internationally standardised as ISO 22196. Today, ISO 22196 is the most important internationally recognized test method for evaluating the antibacterial activity of plastic materials.
The silver additive made by Sanitized used in the production of the product makes the microPLUS® surface antimicrobial. It therefore offers real added value for interior fitout and finishes, and the advantages speak for themselves. The result is trust and safety in all areas in where hygiene plays an important role. For example, thanks to microPLUS®, shelving, fronts and shop counters, as well as tabletops and partition walls with antimicrobial effect can be produced for use in areas of high demand.
Hospitals and medical practices

Laboratories and operating rooms

Patient rooms and functional rooms

Administration, treatment and therapy rooms

Care facilities, sports halls and fitness studios

Rehab facilities

Hotels, restaurants, bars and cafés

Foyers, reception areas and desks (

including so-called "shared-offices")

Tables, counters and sideboards

Guest accommodation

Corridors and staircases

Cruise ships and offshore platforms (e.g. oil rigs)

Motorhomes and food trucks

Lifts

Offices and conference rooms

Employee kitchenettes, refectories and cafeterias

Schools, colleges and universities

Libraries
Diverse assortment - unlimited efficacy
Even if the surface is worn, the effect of microPLUS® is fully maintained during the entire product lifetime. As a result, products with microPLUS® have life-long properties, both conventional and antimicrobial, which offer a decisive advantage in interior fitout and finishes: hygienic, durable, long-lasting, high-quality products.
The examination of the effect of antimicrobial microPLUS® products showed only positive results in the relevant test variations. The microPLUS® surfaces were intentionally damaged to a maximum under simulation of the life cycle in order to test the antibacterial effect also under conditions of use. This remained completely intact.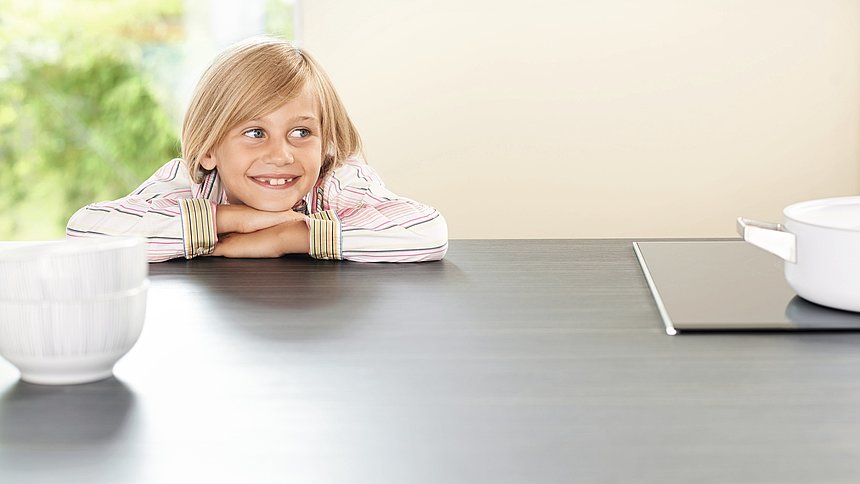 The product versions in which microPLUS® are available are as diverse as the possible uses: Depending on requirements, DecoBoard melamine-faced decorative chipboards, high-pressure laminates, compact boards, worktops, composite (flat-bonded) and front elements can be supplied with the antimicrobial surface. There is also a wide range of design choices - microPLUS® is available for DecoBoard in the DST Xpress collection and for HPL in the entire design collection. microPLUS® also excels in terms of the product and structural combination of HPL and DecoBoard, allowing the products to be combined in a variety of ways in many application areas of different projects.
Frequently asked questions
| | |
| --- | --- |
| Who or what is Sanitized? | Further information about Sanitized Silver can be found at www.sanitized.com. |
| How is the antimicrobial effect achieved? | The additive is based on the natural effect of silver, embedded in a patented glass-ceramic. This additive is free of nanoparticles and is incorporated as a dispersion into the resin of our decor / overlay papers. |
| How quick / extensive is the effect? | The effect begins immediately after the microbes come into contact with the surface. 99.99% germ reduction after 24h is verified and confirmed. |
| What approval restrictions apply to Sanitized? | Sanitized is approved worldwide and enables comprehensive legal security when placing products on the market. |
| Is the effect durable? | The active substance remains in the product and does not wash out. The effect is ensured over the whole life cycle of the product. |
| Are there resistances to the efficacy? | The antimicrobial effect is based on contact of the microbes with the surface. Even MRSA germs are usefully controlled by this effect. |