INSTEAD OF STONE AND CONCRETE
PFLEIDERER WINDOWBOARDS – THE SMART ALTERNATIVE
Windowsills made of stone or concrete are attractive – but are time-consuming and expensive to produce, install and maintain. With windowboards made of high-quality Duropal laminate on a low-swelling wood particle core, Pfleiderer offers a contemporary and economical solution. Because they are extremely hardwearing, durable and easy care – and they are just as easy to work and quick and easy to install. They are also resistant to building moisture, and are dimensionally stable, like all other wood-based panels. They can therefore even be used for particularly high requirements:

project buildings, e.g. offices and administration
conference rooms
salesrooms
laboratories, clinics and doctors' practices
schools and other educational facilities
housing and care facilities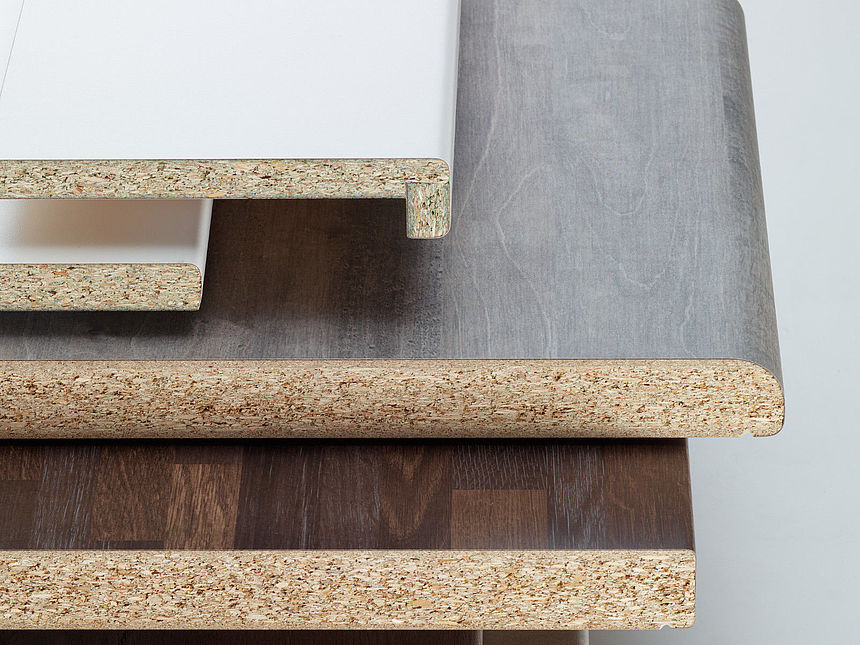 CLASSIC, STYLISH AND PROVEN
NOT ONLY A QUESTION OF AESTHETICS


Furniture element made of a moisture-resistant particleboard construction, bonded with robust Duropal HPL. The postforming longitudinal edge has a radius of 3 mm on both the top and reverse side, making the furniture element universally applicable as a furniture element, windowboard or thin worktop.
Duropal Windowboard FBL, with a moisture-resistant particleboard core faced with sturdy Duropal HPL. The postforming longitudinal edge has a radius of 3 mm and has a folded edge. The 38 mm folded edge is a visual highlight. It allows recesses to be elegantly concealed or radiator covers to be connected.
Easy care and robust window sills
Perfect for indoors
Pfleiderer products are ideal for use as interior window sills. For interior applications, it is particularly advantageous that the window sills are food-safe and antimicrobial - and therefore safe to use.
Window sills with that certain something extra
Special accents with window sills
In the range of window sills at Pfleiderer, we not only offer you a choice of formats in different lengths, widths and thicknesses, but also have two designs to choose from. Our Duropal window sill FBL, for example, has a bevelled edge that stylishly blends in with its surroundings. The window sill can easily hide unsightly radiators or projections.