Ready for the future: OrganicBoard P2
For Pfleiderer, sustainability is more than a theoretical concept. We work hard to set new standards. With OrganicBoard P2, we are now presenting a double-sided melamine-coated decorative board with a uniquely future-oriented raw material concept.
Particularly low emission
Variety of decors and / or textures
New standards for the replacement of fossil raw materials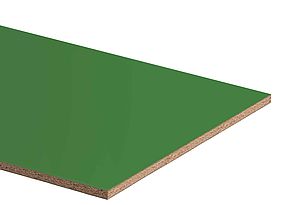 OrganicBoard P2 is manufactured with 50 % OrganicGlue - a biogenic glue. This means that the use of fossil resources in production can be reduced by over 30 % without compromising on product quality. OrganicBoard P2 actively contributes to climate protection.
Innovative, biogenic glue system OrganicGlue
> 30 % reduction of fossil ressoruces
Resource-saving and sustainable wood mix with FSC or PEFC certification on request/inquiry
Uncompromising quality, reliable workability
Available in the decor and structure variety of the EXPRESS collection
Sustainable at Pfleiderer: from theory to practice
With OrganicBoard P2, Pfleiderer shows how sustainable corporate management and market requirements can be perfectly harmonised. As a traditional manufacturer of wood-based materials, we naturally also meet the highest quality standards for furniture and interior design with OrganicBoard P2. This includes, among other things, the usual excellent processability and availability in the full range of decors and structures of the EXPRESS collection.
Shaping a future worth living
Responsibility for tomorrow begins today

At Pfleiderer, we want to do full justice to the environmentally conscious "green" material wood. That is why we have been offering an extensive range of low-emission and environmentally friendly products for many years. Sustainability - ecological, social and economic - as well as the careful use of natural resources are unshakeable pillars of our company philosophy.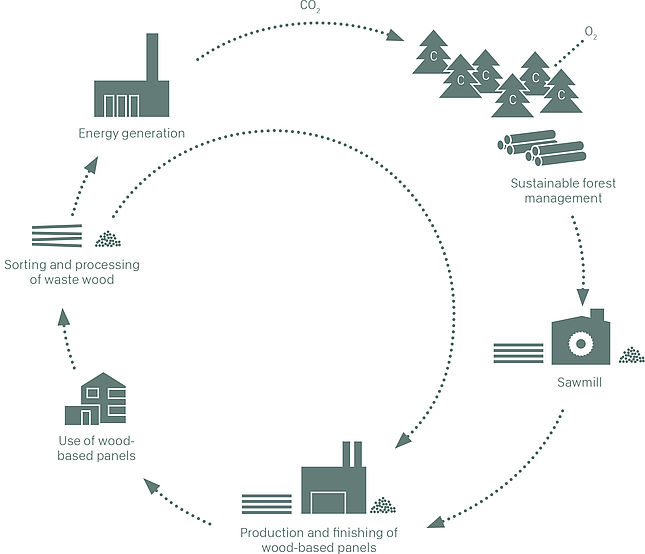 Through the multi-stage use of wood (so-called cascade use), wood recycling and the use of thinning and industrial waste wood for high-quality materials with a long service life, Pfleiderer conserves valuable resources and actively contributes to the reduction of carbon emissions, air, water and soil pollution as well as to the reduction of energy consumption. We control the wood mix individually for each product in order to achieve the perfect balance between quality requirements and resource conservation.
Do you have any questions? Please feel free to contact us!
If you have any questions about OrganicBoard P2 or other sustainability topics from Pfleiderer, please feel free to contact our team. We will be happy to help you!
Environmental Social Governance (ESG) is a top priority at Pfleiderer
At Pfleiderer, we address the needs and interests of our stakeholders by implementing sustainable processes within the company and society.
Sustainability: Outstanding performance certified by independent rating agency
Sustainability is a central topic for Pfleiderer, which we are pushing forward with strategic emphasis. It is important to us that all the measures we take are traceable through certificates or rankings and that their effect can be proven. Now we have received another important confirmation.
Film off: consistent circular economy in the use of natural resources
The world must become more sustainable, resources must be conserved and climate change must be stopped. The right materials make an important contribution to this.